China Economy Starts 2018 on a Solid Trajectory
China Economy Starts 2018 on Solid Trajectory After Profits Dip
Earliest private economic data signal brighter January outlook

Industrial profits moderated for a third month in December
As the latest China data showed some softening at the end of an upbeat year, reports for this month are looking likely to show the economy keeping pace despite slowing industrial profits.
The earliest indicators for January show momentum remains intact, with sales managers the most upbeat since July, financial experts more optimistic, and satellite imagery signaling manufacturing conditions are improving for the first time in four months. That reading is in line with forecasts that both main factory gauges remained at solidly expansionary levels
"The strong momentum will likely be carried over to the first quarter, with the economy being supported by strong external demand and domestic consumption," said Xia Le, chief Asia economist at Banco Bilbao Vizcaya Argentaria SA in Hong Kong. "The risk factor is deleveraging, as the market is still underestimating how tough it could be as China shifts its focus to the quality rather than speed of the growth.
Such a transition was Beijing's main message to the world this week as Liu He, President Xi Jinping's chief economic adviser, told financial and political elites in Davos that China is moving to upgrade its output rather than simply hit numerical targets. Robust economic data give it room to reform without as much worry the overhaul may undermine growth.
Meanwhile, not all arrows point up. Data released Friday showed industrial profits rose 10.8 percent in December, the slowest pace in a year. The early indicators aren't all sanguine either: the outlook is slightly dimmer for smaller enterprises and sentiment in the steel business has been deteriorating.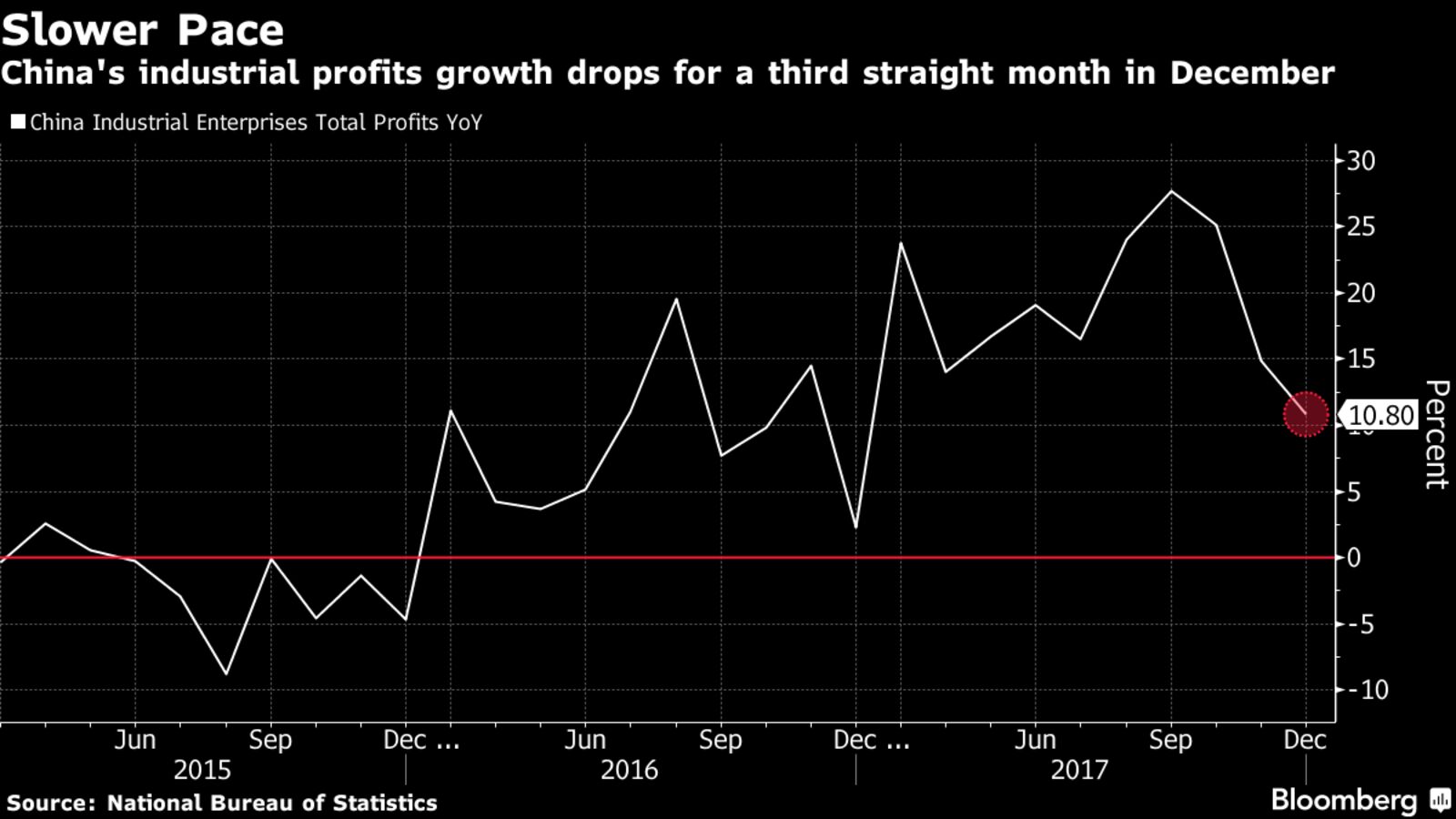 "Weaker demand has started to weigh on production, while investment appetite has been sluggish," Standard Chartered Plc economist Shen Lan wrote in a recent report. More headwinds and less accommodative policies are poised to weigh on the economic expansion in the first quarter, she added.
Here's what early private indicators show for January:
A gauge of sentiment among sales managers rose to a six-month high of 52.5 in January from 52.1 in December, according to a survey by World Economics Ltd. Readings above 50 signal conditions are improving
The China Satellite Manufacturing Index rebounded to 51.8 in January from 50.8. The SpaceKnow Inc. gauge tracks commercial satellite imagery to gauge activity levels across thousands of industrial sites
Standard Chartered's Small and Medium Enterprise Confidence Index softened for a second month, falling to 53.8 in January from 55.3 in December, according to the bank's survey of hundreds of companies nationwide
Sentiment among international financial market experts rebounded from the lowest level since February 2016. The survey by the China Economic Panel showed 12 month expectations improved to 1.1 from minus 10.7 in December
The S&P Global Platts China Steel Sentiment Index slumped to the lowest since June 2016 due to expectations of slower domestic orders over the next month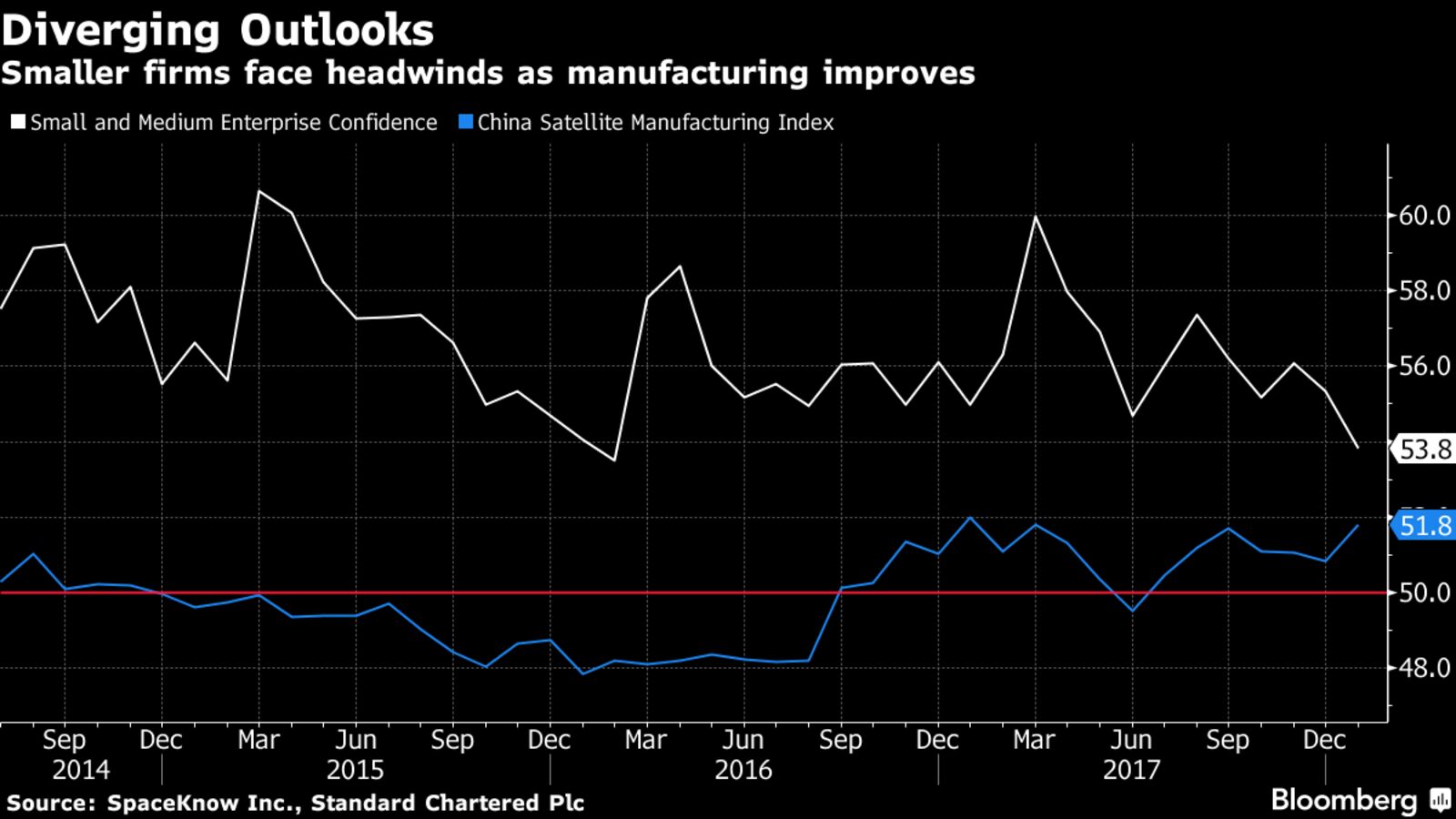 Official January data start trickling out next week:
The manufacturing purchasing managers index edged down to 51.5 from 51.6 in December, according to Bloomberg's survey of economists before the Jan. 31 release
The non-manufacturing PMI stayed at a robust 55 for a second-straight month
The Caixin Media and Markit Economics manufacturing PMI, a private gauge set for release Feb. 1, is forecast to be steady at 51.5 for a second month
The economic calendar will be a little lighter than usual next month as the country celebrates the Lunar New Year holiday with a week-long break. Industrial production, fixed-asset investment, retail sales and industrial profits won't be released during February.
"The economy will probably continue to run well in the first quarter," though financial reforms pose risks, said Iris Pang, an economist at ING Groep NV in Hong Kong. "Salaries are rising, which is a good support for consumption of goods and services, and infrastructure investments and shantytown restructuring would also support fixed-asset investment."